Not to be confused with Musket (Line Infantry).
The Light Infantry Musket is a weapon used by the Light Infantry.
It functions similarly to the Line Infantry Musket but has a slightly faster reload speed and better range in exchange for having no bayonet. The light infantry musket is available in every faction's Skirmisher tab (except for Russia, it is available in the militia) and in partisan loadouts because they are randomized. Light muskets have a reload of 12.5 seconds which is almost one second short of the line musket with a reload of 13 seconds. Light muskets are more accurate than line muskets and can prepare fire faster than both rifles and line muskets.
For more information on Skirmishers, check the page: Skirmishers
Design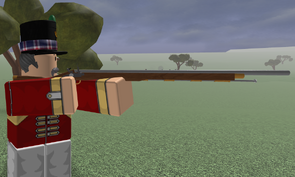 The design of the light infantry musket is similar to the Line Infantry musket with the absence of a fixed bayonet and has a longer barrel.
Usage
The Light Infantry musket can be used for anything really, as it's extremely fast in close quarters, and accurate enough to help support riflemen at long range if necessary.
Light muskets are mainly intended as anti-infantry due to the absence of a bayonet and its benefits from the line musket. This means that it's more effective to use the light musket on a map that does not include cavalry due to its superior speed over the line musket. But, you can still bring light muskets to a cavalry map if you feel that cavalry won't be a problem for you.
Pros & Cons
Pros
Good range.
Can one shot in 30 studs-10 more than Line Musket.
Slightly faster reload speed than the Line Musket
Cons
An absence of a bayonet. (This loss can be replaced by the soldier's melee weapon, which usually has longer range, but this process takes longer, which can cost you your life.)
Not as accurate as the Rifle.
Trivia
In the pack that CoderQwerty released the musket, rifle, pistol, and sword didn't include the skirmishing musket, but there is one skirmishing musket made by Vleltor named "Naval Rifle"
The Skirmisher musket had the same accuracy as the line infantry musket until CoderQwerty increased the accuracy of it in 11/12/2017.
Russia seems not to have light, but they are under the Militia tab as Opolcheniye Line Infantry (Potentially Mislabeled?)-Opolcheniye were militia, mostly serfs filled up the role, it would be unfair to have every nation have light infantry except Russia
Light Infantry in the Napoleonic Wars were actually armed mostly same as infantry (musket bayonet standard supply).